About Feelgood Sleep Systems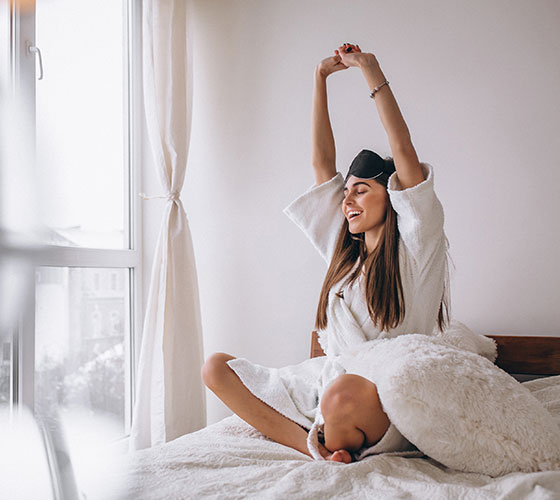 A well known fact is that an average adult requires 7 - 8 hours of sleep. The less known fact is that excess of tossing, turning and even snoring during sleep are signs of inadequate sleep.
The quality of sleep is directly proportional to health benefits.
Proper sleep helps in boosting the immune system, hence preventing the risk of diabetes, unhealthy blood pressure, respiratory and cardiovascular diseases.
Adjustable Motion Beds
A bed should not be limited to sleep.
Our adjustable bed bases offer a lot more than good sleep. Built to cater to individual these beds promise sheer comfort and postural support.
So why settle with one option when you can have many with a single bed!
Mattresses
An ideal mattress is the one which soothes you to sleep.
Healthy sleep and comfort are interdependent. Our mattress range ensures durability and takes care of your pressure relief & spinal support to add quality to your sleep time.
Pillows
The right pillow is your medium to beautiful dreams.
Correct head and neck positions are crucial while you lie down to ensure healthy posture and sleep. Choose from our latex or memory foam pillows which take the shape of your head and keep the spine aligned to give you a good night's sleep.
10 Year limited Warranty on Adjustable beds
Our Adjustable beds will make a difference in your life for many years to come.
10 Year limited Warranty on Latex Mattress
Mattress that will help you get a good night sleep always.
Pan India delivery
Our delivery partner will deliver the product safely to your doorstep.
Excellent Customer Support
Our backend team will help with all your queries related to the product.
Why settle with one option when you can have many with a single bed!
Bookaholic
Attempting to seek a comfortable position while reading your favourite book , The head up position helps to support your head and neck reducing the stress on their arm.
Gym Freak
After a long day, there is no better way to soothe your aching feet and legs than putting your feet up in bed. Elevate your legs for a sense of relief as this position removes the pressure from the leg veins, encouraging better blood flow.
Binge Watcher
Experience the personalized TV watching experience. The bed offer ultimate comfortable position with best TV viewing angle.
Busy Bee Lounge
The lounge position of feel-good can transform your bed into the perfect relaxation zone. It is perfect for relaxing and resting after a long and tiring day you had at work. It gives back support which slants toward the back for a reclined position with the feet raised.
ZERO G
One touch button that raises the legs slightly above the heart to promote circulation and relieve pressure off the lower back to help you sleep better and get up fresh.
Massage
Massage motors soothe sore muscles while you sleep or lounge.Unwind with a free massage in the comfort of your home.
Under Bed Lighting
Soft LED lighting under your bed helps guide you through the dark safely without waking your partner .
Bookaholic
Gym Freak
Binge Watcher
Busy Bee
ZERO G
Massage
Under Bed Lighting
Headboard is not a part of the standard product offering.